Want to Try this delectable beetroot and hummus sandwich? It's so fresh, filling , healthy and can quickly become a lunch favorite.
Salad Sandwich With Beetroot Hummus A fresh salad sandwich is such a good way to get in all your required servings of vegetables at any time. This is a new type of sandwich idea for you to crunch and to try out!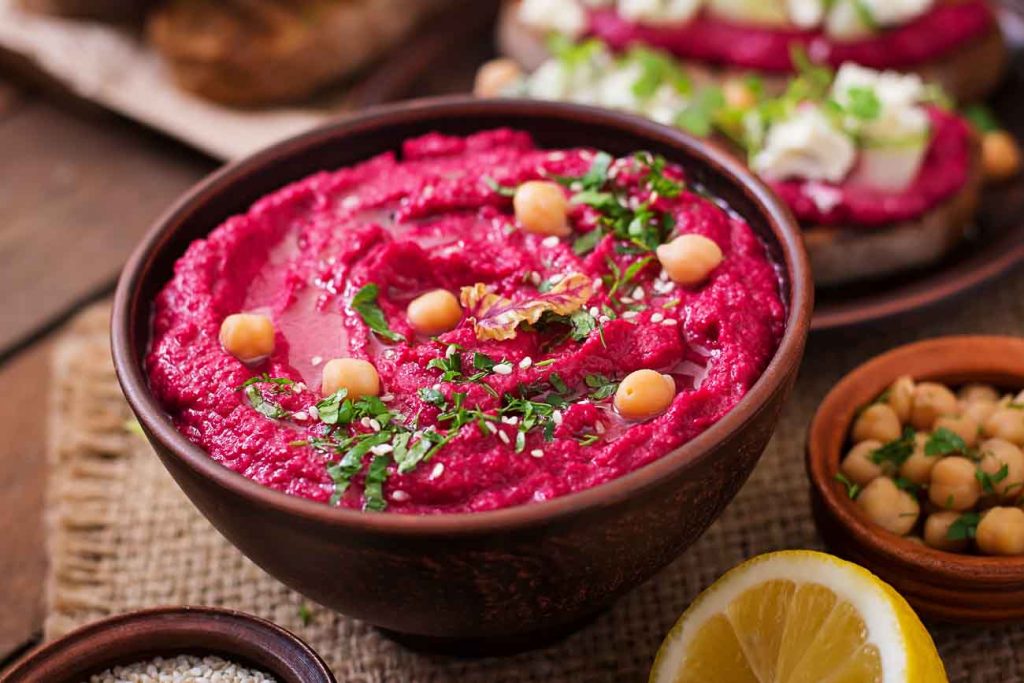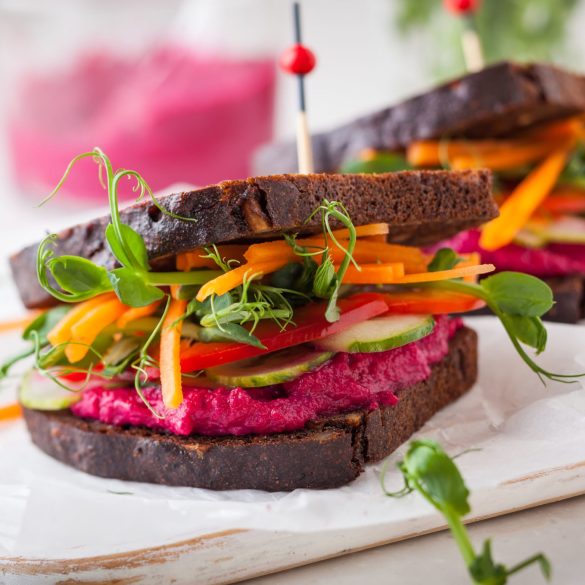 Ingredients
2 slices rye bread
½ Lebanese cucumber, sliced
½ medium tomato, sliced
1 small handful snow pea shoots
½ medium carrot, sliced into matchsticks
¼ cup (60g) beetroot hummus
Beetroot hummus
1 small beetroot
200g tinned chickpeas, drained and rinsed
1 tbsp tahini
1 garlic clove, crushed
1 pinch ground cumin
1 tbsp water
lemon juice, to taste
salt and ground black pepper, to taste.
Instructions
Preheat the oven to 180°C (360°F).
Wrap the beetroot in foil with a tablespoon of water (this helps the beetroot to steam). Place in a small roasting pan and bake for 30-40 minutes or until tender.
Test the beetroot with a skewer. It is cooked if a skewer pierces the flesh easily. Set aside to cool. The beetroot can be cooked the night before and stored in an airtight container in the refrigerator.
Peel the beetroot and roughly chop.
Place the chickpeas, tahini, garlic, cumin, water and lemon juice in a food processor and pulse until creamy. If necessary, a little more water may be needed to reach the desired consistency.
Add the beetroot and pulse for a few seconds until just combined. Season with salt and pepper, if desired. The beetroot hummus can be stored in an airtight container for up to 5 days.
To assemble the sandwich: place one slice of bread on a serving plate and spread over the beetroot hummus. Layer the cucumber, tomato, snow pea sprouts and carrot and top with the other slice of bread.